Inside The Creative Process: Prahran Market Say Cheese 2018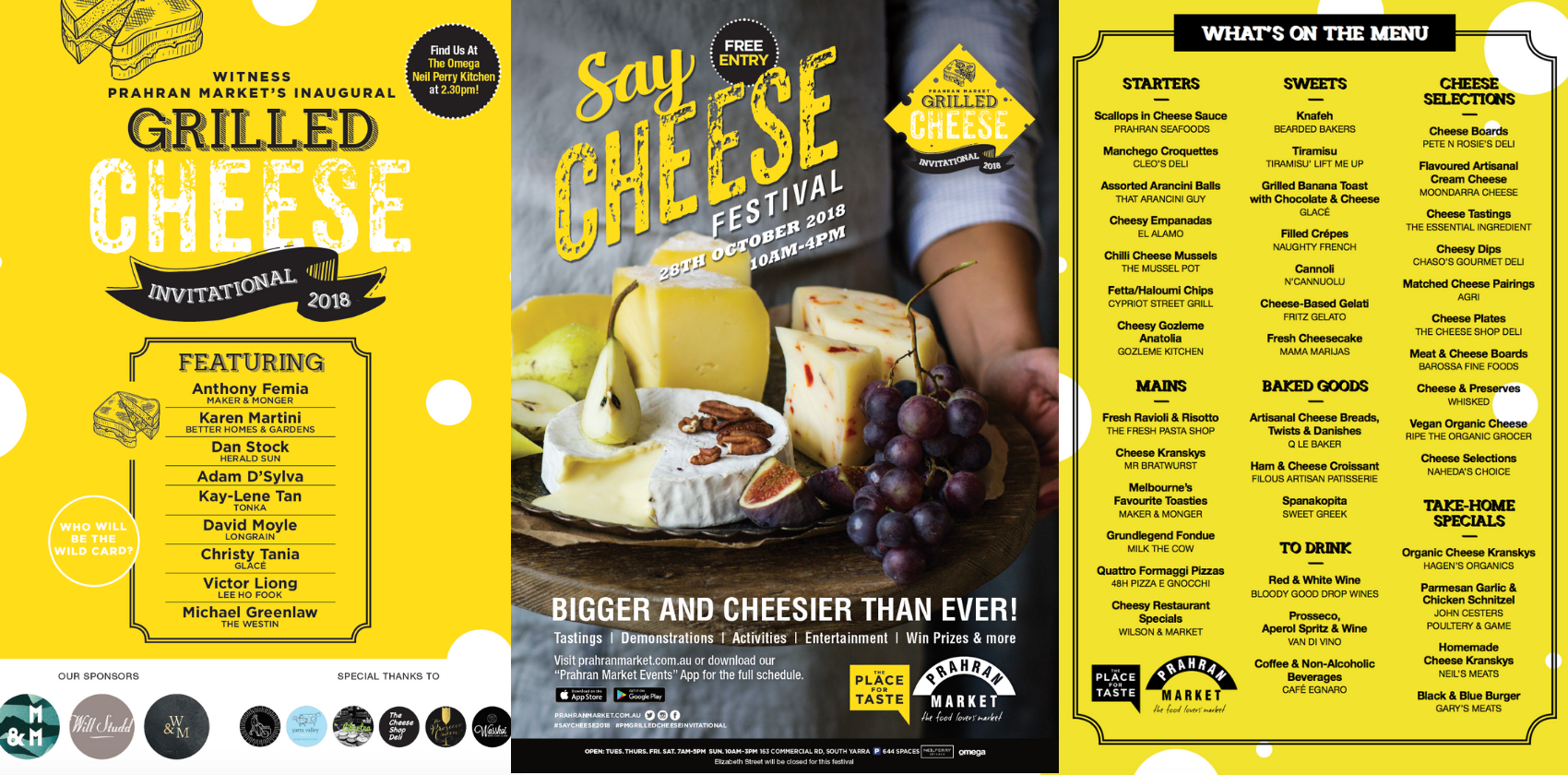 For several years, Prahran Market has been leading the creative charge for markets in Melbourne, organising food-themed events throughout the year. From Sausage Fest to Truffle Fest, Prahran Market is the destination for food-passionate individuals, and the 2018 edition of their Cheese Festival was no exception.
Account Director David, Account Manager Ben, Media Managers Megan and Dinie and Art Director Tanya worked together with Prahran Market management to deliver a set of outstanding creative aimed at reinforcing the quality, provenance and unique selection that the market offers its customers, while promoting the exciting events and activities that took place on the day.
Featuring close to fifty different traders, all offering a delectable range of cheesy treats, Prahran Market briefed Faith to develop an all-encompassing program of the day's activities. With a detailed map, trader lists and exclusive offers, attention to detail and good design ethos were critical to delivering an exceptional document.
Further, Faith developed a number of highly appealing posters, from the main event poster to trader locations and map posters. Each was crafted with maximum legibility at the fore, while still exhibiting the key messaging and high levels of creativity that Faith is known for.
Our media team were able to coordinate with representatives at popular food websites The Urban List and Broadsheet for paid editorial content while managing a finely-tuned social media advertising campaign as well as Google display media, all targeting the burgeoning foodie consumer group across the digital spectrum.
In the end, the festival was a great success, featuring high levels of attendance, positive feedback and another feather in the cap of this incredibly motivated Prahran Market team. Faith was very pleased with the results and is looking forward to future activity including the popular Christmas period and on into 2019.
If you're interested in finding out more about Faith's retail experience or further insight into Prahran Market's Cheese Festival experience, don't be afraid to get in touch with us at admin@thefaithagency.com.au or by calling us on 03 8646 0100.