Prahran Market Say Cheese 2021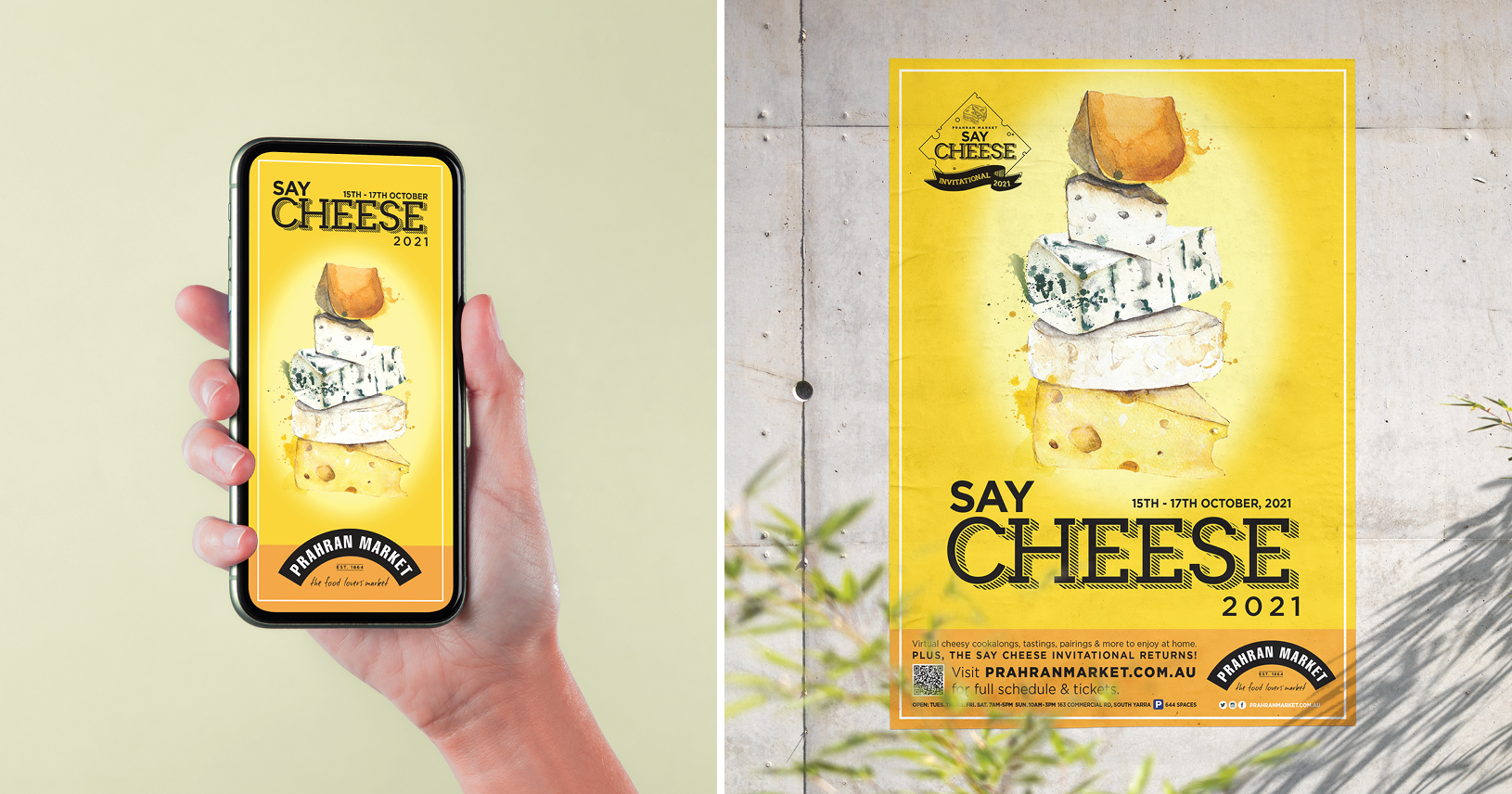 In October 2021, Prahran Market once again celebrated their annual Say Cheese festival, chockful of cheesy goodness, from cheese tastings, interactive cookalongs and the fourth annual Grilled Cheese Invitational. Unfortunately, due to the ongoing Victorian lockdowns in October 2021, Say Cheese was run as an online-only event, but Faith was there once more to assist with much of the creative concept development for this incredible event.
For the 2021 edition of Say Cheese, we once again maintained our illustrative cheese stack hero image (tied in nicely with the new brand look-and-feel developed earlier in 2021), only this time updating the primary colouring of our creative, moving the tones from blues and greens back to yellows and oranges. With subtle tweaks to language used and fonts, the event imagery was a lovely evolution yet a strong consolidation of the look and feel of what has come before.
We also developed a series of animated GIFs for our programmatic digital display campaign, with a full suite of different sizes rotated between different sites at different times all through machine learning to ensure maximum efficacy of who we reached and were able to convert.
While our full media plan for this campaign originally included outdoor advertising through JCDecaux billboards and Tram banners, ultimately with the lockdown in Victoria persisting, we had to remove these from the plan. However, we were able to stick with our booked radio spots, sponsoring What's Happening programming on both Nova and Smooth FM here in Melbourne.
There were also a set of digital media assets developed, including website banner for both desktop and mobile landing pages, social media banners set to specific sizes and type-safe areas, and social media images as well.
Ultimately, in spite of very challenging circumstances, Prahran Market's 2021 Say Cheese festival proved to be extremely successful. While always difficult to compare to in-person events at the Market itself, all online tasting packs were sold out and there was extremely healthy attendance at many of the online cookalongs and tutorials. We were, as always, very proud to help Prahran Market with executing their vision for another successful food experience!
With so many of years of assisting the Market with a variety of concept executions, event creative development and other broader initiatives, we're confident that there are many lessons that could be learnt by a number of other businesses within the food, hospitality and event industries. And we feel like we could be the ones to help these businesses achieve greatness. To learn more about what Faith can offer you, contact us today for a no-obligation conversation about how we can work together.