Unwrap website gets the thumbs up
Faith Digital Director Kate Farr was delighted to attend the Large Format Retail Association Forum in Sydney during August, where two of her new website projects were showcased.  The forum was the first time where members of the association could meet and discuss the new Unwrap website created by Faith and launched in July.  The new website is a 'one stop shop' for all knowledge matters relating to big box retailing in Australia.  Response to the website has been extremely complimentary with the launch the result of nearly a year's work between the LFRA executive team and Faith.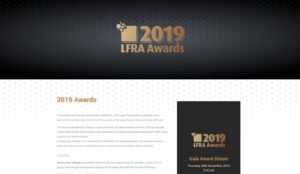 The forum also saw the launch of the awards website for all members of the association which will facilitate easy nomination and entry into the prestigious awards process which continues to grow each year in stature and entries.  There are 9 awards which will be judged and presented at a November 28th function in the Crown Palladium ballroom, Melbourne.
The new Word Press websites are easy to navigate and in the case of the Unwrap website contain a lot of reference materials for anyone looking to research the industry.  The site also contains a number of advertising opportunities for those companies wishing to engage and work with this important sector of the retail industry.